The following is PhilNews.com's current editorial printed in its entirety. I thought this is so important that I would just have you read it for yourself without any comment from yours truly. However, I would like your reaction, please:
Last Wednesday (9/17/2009) Cotabato Auxiliary Bishop Jose Colin Bagaforo issued a veiled warning to presidential candidate Sen. Noynoy Aquino indicating that the senator's support of the Reproductive Health Bill which he co-authored in the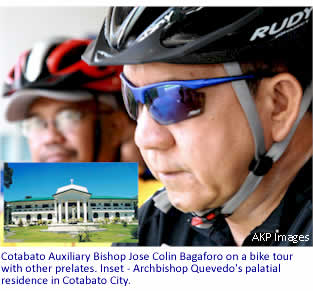 Philippine Senate could be detrimental to his presidential aspirations. Aquino, who currently leads the pack of presidential contenders is a strong supporter of sensible population control for his overpopulated Philippines.
Bishop Bagaforo, who goes bike touring around parts of the country decked-out in designer eyewear is emblematic of the Bishops, Archbishops, and much of the Philippine Catholic Church hierarchy who seem totally disconnected with the present plight of the nation. These old men of the cloth live lives of relative luxury. They have their assistants and secretaries, eat at least three good meals a day, and regularly hobnob with the rich and powerful. They have as much in common with their poorer parishioners as say a resident of exclusive Forbes Park has with the scavengers and garbage collectors of Smokey Mountain.
The Philippines today is struggling to move forward, but for every step forward it takes—be it in improved farming methods, or conserving its natural resources, or controlling and recycling waste—it is pushed two or three steps backwards by the ever increasing demands of its exploding population. Many Westerners who arrive in Manila are immediately struck by the mass of humanity that they see in the streets. And the worst part is government statistics show that the segments that are increasing the fastest are the poorest segments of Philippine society.
China which has a strict one-child policy in most of its provinces, and until recently an avowed atheistic country, is prospering and may soon eclipse the United States and Europe as the wealthiest and most advanced country in the world. The Philippines on the other hand a deeply religious country, practicing all sorts of esoteric rituals is stuck in a rut and is falling further and further behind even its Asian neighbors.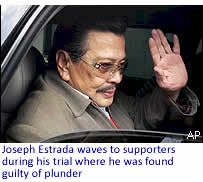 Another question many are asking is: if the Catholic Church is going after Noynoy Aquino for his support of the Reproductive Health Bill, why has it remained silent about former president—and possible presidential candidate—Joseph Estrada's philandering ways and his many women? Aren't those acts also a blatant violation of one of the Ten Commandments? Does this double standard exist because the Church privately condones such acts for the high and mighty be they inside or outside the Church?
It is high time that Filipinos told their bishops and archbishops to simply concentrate on performing their Confirmations and singing their Gregorian chants and leave politics to those who are actually answerable to their constituents and not to God. Otherwise, the Philippines might soon follow in the footsteps of the United States where a recent American Religious Identification Survey (ARIS), showed a significant increase in the number of people who said they do not belong to any organized religion at all.