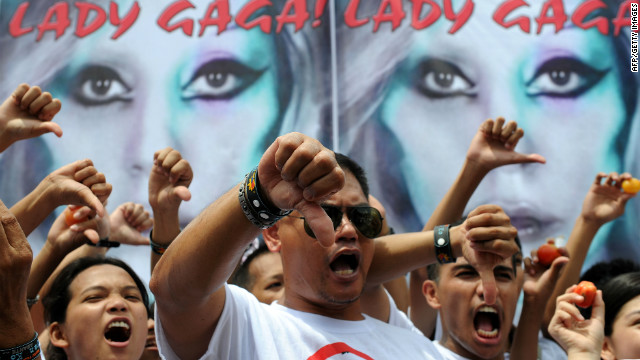 Do you agree with the protesters that the Lady Gaga concert should have been banned in Manila to protect the moral values of the Filipino youth?... Should Lady Gaga be given artistic freedom, or must she be censored based on religious and moral beliefs of the predominantly Christian people of the Philippines?
(Read more,
Lady Gaga in Manila: Artistic Freedom or Censorship Based on Religious Beliefs?, by Gel Santos-Relos
)
If many Filipino's think Lady Gaga is sincere in advocating respect and equality for all, then many are out of touch with her reality. If Gaga is serious about love and acceptance, then she should stop offending Catholics in her songs and videos or at least explain why defaming people of faith is acceptable while an attack on LBGT community is not. Or better, she should make songs and videos of other religious figures like Mohammed - I bet she doesn't have the courage to do it.
Protesters should also toned down their rhetoric. I got their message and their concern on keeping the moral fiber of our youth intact. But I hope Gaga's visit was also a time for self-evaluation on their long-lasting impact and role in teaching moral character to the next generation and their families. They also need to realize that the Lady Gaga concert was a paid closed-door event. People chose to pay to see her perform and celebrate her message. The good news, the only thing Gaga offended were the concert goer's sense of good taste and their wallets.